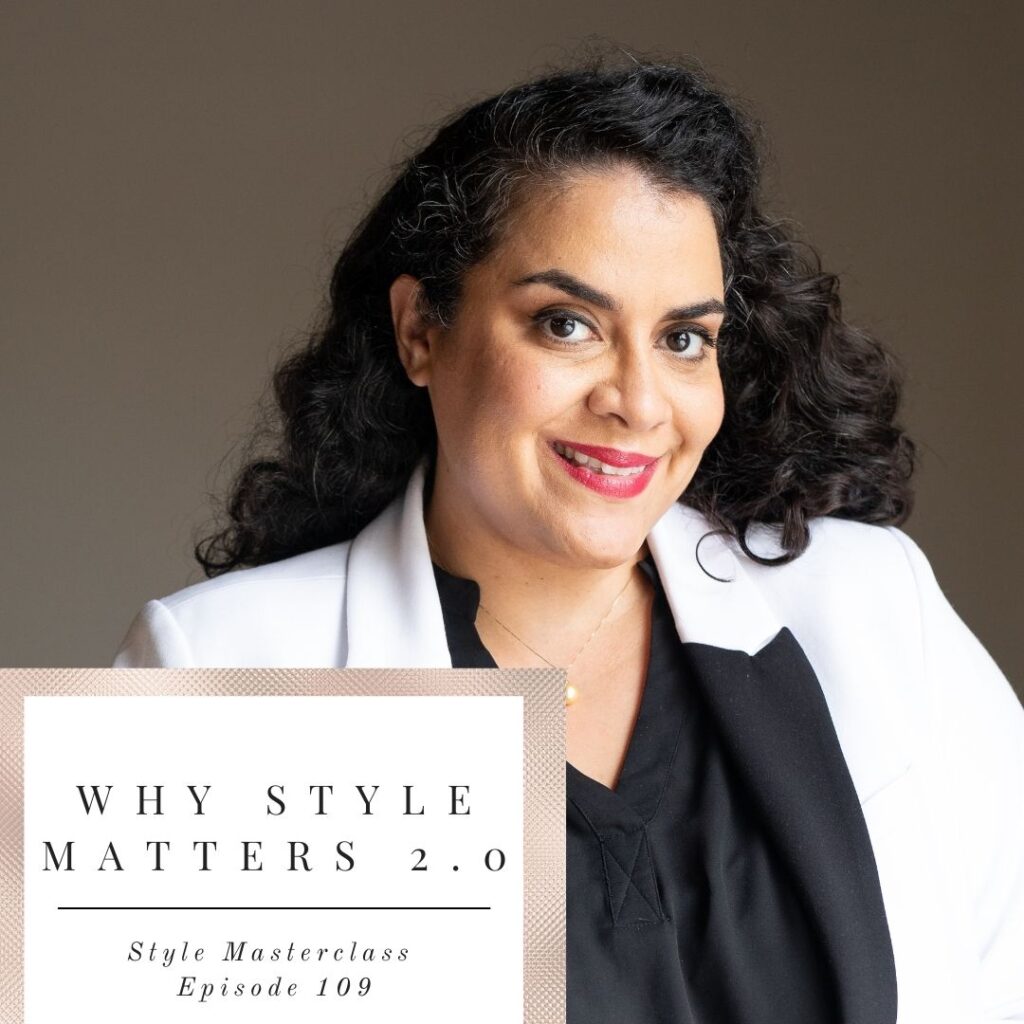 EPISODE RECAP
WHY STYLE MATTERS 2.0⠀

A style transformation gives you the blueprint to change your life.⠀⠀⠀⠀⠀⠀⠀⠀⠀⠀⠀⠀⠀⠀⠀⠀
Every makeover begins with awareness that what you are doing is not working and the realization that something has to change. It is when you finally allow yourself to declare what you no longer want. You finally permit yourself to say "this is no longer working for me."⠀⠀⠀⠀⠀⠀⠀⠀⠀
⠀⠀⠀⠀⠀⠀⠀
Every makeover story begins with the exhilaration and freedom of letting things go. We start with your closet, your undies drawer, and then go META.⠀⠀⠀⠀⠀⠀⠀⠀⠀
⠀⠀⠀⠀⠀⠀
Where else in my life have I allowed janky things to creep in and take over?⠀⠀⠀⠀⠀⠀⠀⠀⠀
⠀⠀⠀⠀⠀⠀⠀
How you do one thing is how you do everything. Look at your style. It is a gold mine of information of how you have been showing up to do your work in the world–confident and stylish AF? Or Janky and just gettin by?⠀⠀⠀
A STYLE TRANSFORMATION⠀⠀⠀⠀⠀⠀⠀⠀⠀⠀⠀⠀⠀
⠀⠀⠀⠀
A style transformation is similar to any life changing transformation. We begin with what you don't want and begin to edit that out of your closet and out of your life.
The same skill set applies to any area of your life that you want to uplevel. It is never just about swapping out old clothes for new ones. It is about UPLEVELING the heart and the mind of the woman wearing the clothes. ⠀⠀⠀⠀⠀⠀⠀⠀⠀
I want you to have a transformation unlike any other. Yes we start with your clothes, but ALSO your mindset, your attitude, the way you talk about yourself, the way you talk to yourself, the way you show up. Any stylist can send you a list of must have items.
A style coach helps you transformation your style so you can change how you show up to take care of business in real life. A style coach is there once the cameras are turned off and you are left with your own thoughts. If you want a transformation that is on a whole other level. Get a style coach. (Psst I happen to know one).
I do clothes. I do transformations. If you are ready to transform and uplevel, let's go. Sign up for my 1:1 exclusive transformation program. Learn more at www.judithgaton.com/style-school or click on the link in the bio⠀⠀⠀⠀⠀⠀
LISTEN TO FULL EPISODE
WANT MORE MISS J? CLICK BELOW
Want to chat? Schedule a free style consult with me here.
LOVE THE SHOW?
Leave me a review on Itunes.
Leave me a review on Spotify.