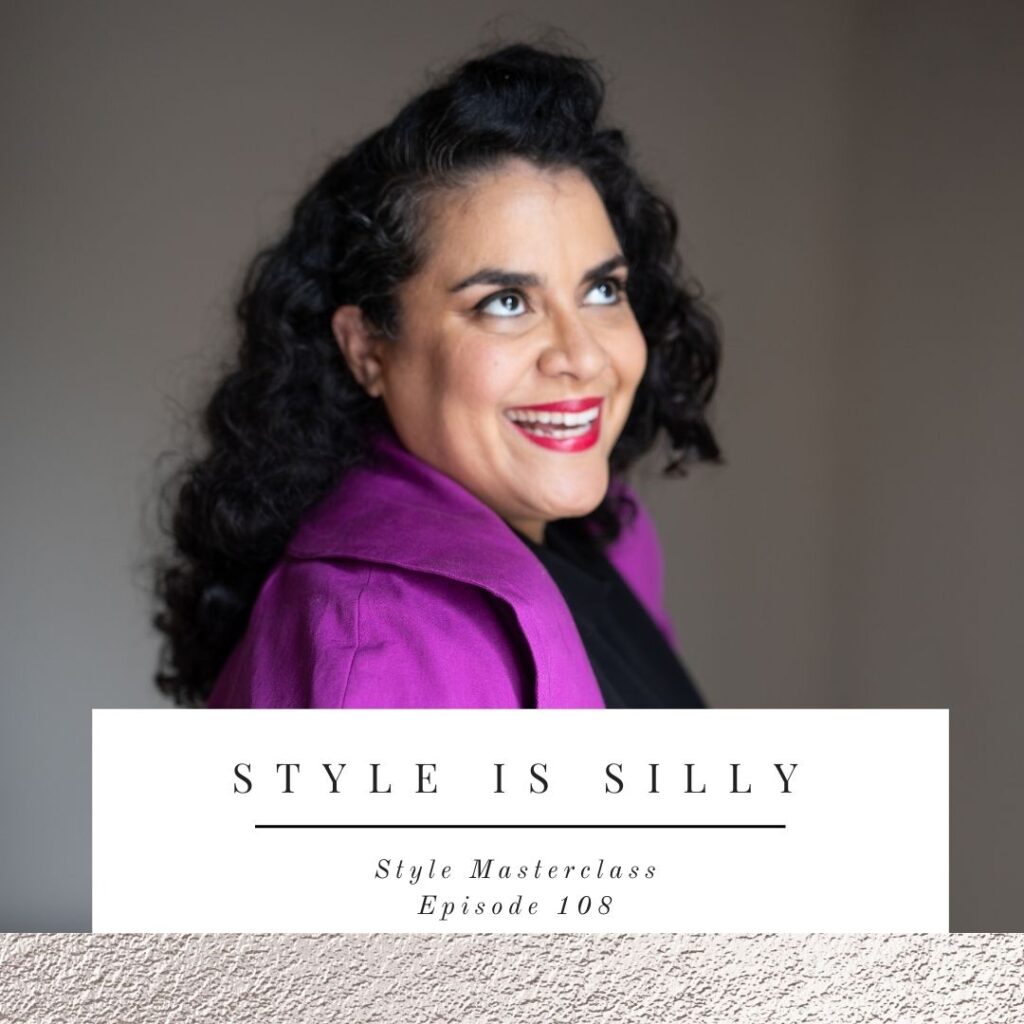 EPISODE RECAP
Style is Silly
Have you ever said this? Or heard this?
I recently had a coaching call and the client told me she was actually considering cancelling because style is silly. After about 20 minutes with me, she identified why style isn't silly at all. How we do one thing is how we do everything. Showing up janky to your zoom calls, where else in your life are things looking and feeling janky? Style is an outward expression of how you think and feel about yourself. What is your style saying about how you're doing?
1. GET HELP WHEN YOU NEED IT FROM THE RIGHT PERSON
I don't get style advice from my business coach. (Sorry not sorry @Davemoreno) Neither should you. Go to the expert who actually has the expertise, wisdom, knowledge, and experience in the actually area you need help with. I don't go to my mechanic for a pap smear. I don't get advice from someone who has no expertise in what I really need help with. You having issues with body image, inner mean girl thoughts about your body, what to dress, where to shop, and what to wear… maybe your biz coach isn't the expert you need. I don't expect that from my biz coach, neither should you. Style is so much more than the clothes you were. It is the thoughts you think and how you feel about yourself. If you are having issues with either, find the help you need to address the thoughts and the feelings. Want to show up looking and feeling like a boss, then find the help you need to look and feel like a boss. If you need style help, it isn't silly. Get the help you need from the person who can actually help you.
2. STOP HIDING
To my lovely lady entrepreneurs, stop hiding behind stock photos. Stop avoiding being on camera. Your potential client wants to see and know you. If you are hiding, as your future style coach, I want to ask you why? Why are you hiding? If you are hiding and want some help, but are reluctant because you think style is silly. Think about all of the potential clients you have lost because you are hiding from them. When you think in terms of the lost opportunities hiding has cost you, it is definitely no longer silly.
3. WANT TO GLOW UP YOUR BUSINESS?
I want all of my clients who are struggling with investing in their style and telling themselves it's silly to hear me. Style is not silly. Do not compound whatever you are struggling with (what to wear, what to buy, how to wear it, body image issues) by telling yourself it's silly. Body image issues with a side of shame never felt good or looked good on anybody. You want to show up online? You want to glow up your business? You want to love and dress the body you are in? You want to build an empire and look good doing it? None of that is silly. I'm here to help you show up, glow up, dressed to the nines, ready to run things and looking good while doing it.

I can help you. To learn more about my exclusive 1:1 program Style Masterclass where I help women to look good while running thangs. Click here.
LISTEN TO THE FULL EPISODE
WANT MORE MISS J? CLICK BELOW
Want to chat? Schedule a free style consult with me here.
LOVE THE SHOW?
Leave me a review on Itunes.
Leave me a review on Spotify.