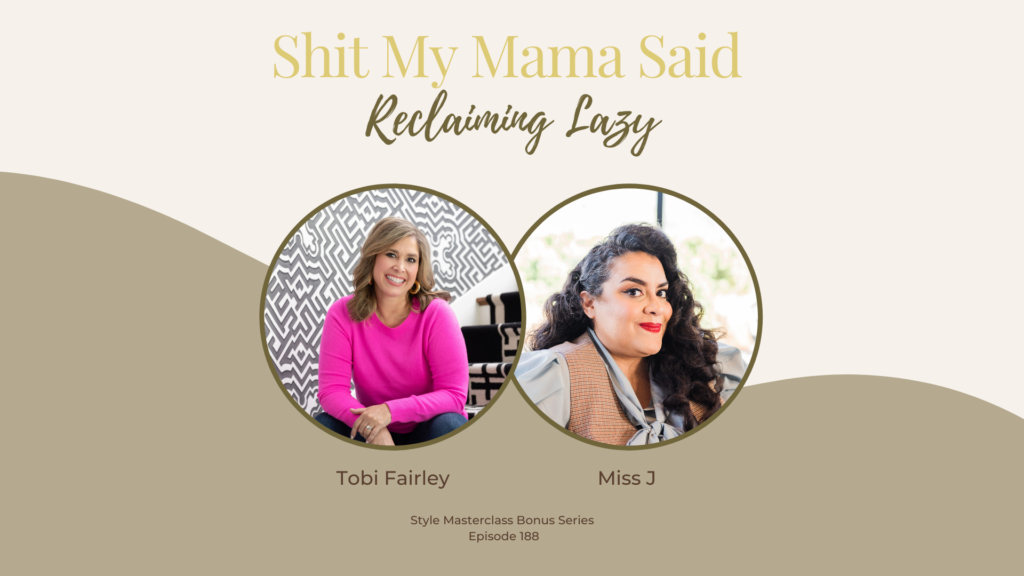 EPISODE RECAP
On this week's episode of the Style Masterclass Podcast, we have another episode in our Shit My Mama Said series with special guest and fellow coach Tobi Fairley.
You'll learn:
The two sides to "being lazy".
Why women may feel emptiness even though they "check all the boxes".
We're sold a message that we're supposed to be grateful and happy all the time.
Tobi Fairley is an award-winning interior designer and business consultant with over a decade of experience helping high-achieving, creative professionals take their companies and lives to the next level. When she's not running her two seven-figure businesses, including an interior design firm and a consulting firm for artistic business owners, she's busy leading an online membership community for ambitious professionals. Tobi specializes in transforming home and business environments to maximize productivity and well-being. She has been featured on television and in top-shelf publications including Forbes, The Wall Street Journal, Real Simple, Better Homes & Gardens, The Huffington Post, Southern Living, House Beautiful, and Traditional Home. As the host of her Design You podcast, Tobi helps creatives design businesses and lives that they love. Tobi lives in Arkansas with her attorney husband and teenage daughter.
Link to Tobi's website.
LISTEN TO THE FULL EPISODE
LOVE THE SHOW?
Leave me a review on Itunes.
Leave me a review on Spotify.