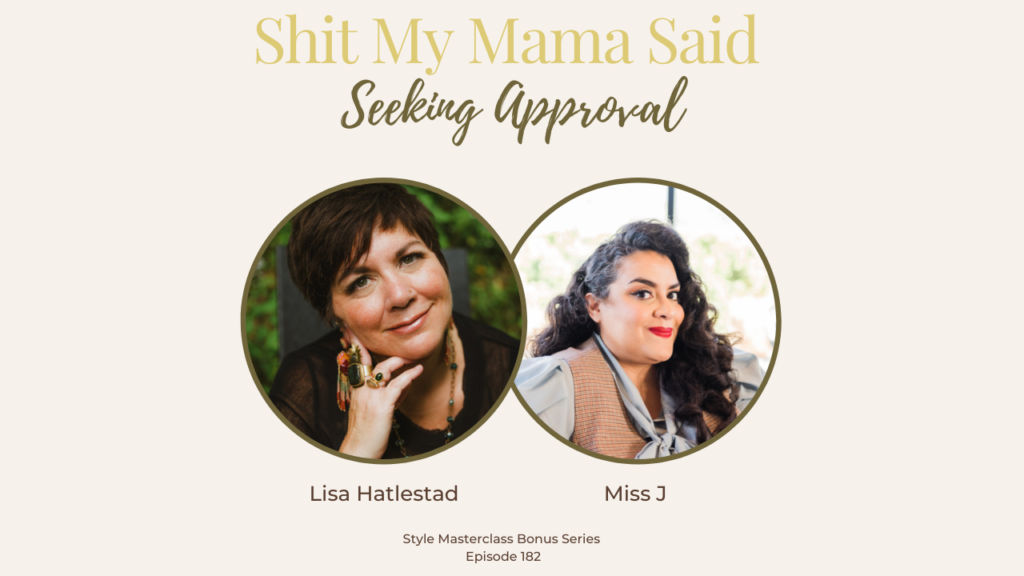 EPISODE RECAP
On this week's episode of the Style Masterclass Podcast, I have the next episode of the Shit My Mama Said Series. Today's episode has a very special guest, fellow coach, Lisa Hatlestad.
You'll learn:
The impactful experiences we had as women growing up.
Power of the "good girl" narrative as a child.
You were never responsible for anybody else's thoughts or actions.
Lisa is a master life coach for heart-led women in the personal and spiritual development community who want to dispel conditioned identities and ways of being that have limited – even silenced – them, but fear how that liberation will impact them and upset others. Lisa works with her clients on the mind, energetic, body and spiritual level to support them in moving through the fear and toward their own soul-aligned lives and practices. As the host of the Prairie Visionary Soul podcast, Lisa brings light and compassionate and authentic humanness to common and not-so-common personal and spiritual development topics, practitioner experience, and our own healing work.
Website: https://www.lisahatlestad.com
Prairie Visionary Soul podcast: https://podcast.lisahatlestad.com
Instagram: https://www.instagram.com/lisa_hatlestad/
Facebook: https://www.facebook.com/lisa.hatlestad
LISTEN TO THE FULL EPISODE
WATCH THE EPISODE ON YOUTUBE
WANT MORE MISS J? CLICK BELOW
Ready to start your style journey? Get started with my Curvy Style Guide here.
LOVE THE SHOW?
Leave me a review on Itunes.
Leave me a review on Spotify.